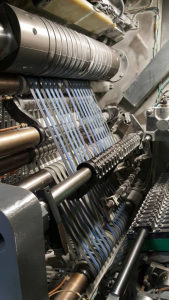 Goss International has formally announced its partnership with Nitta Corporation of America in developing MRO Belt Kits for the high-speed sections on Goss PCF-1, PCF-3, SG-3, and the new JF80G Folders.
This collaborative effort aligns perfectly with Goss' and Nitta's parallel approach to the printing market, in which both companies strive to offer the latest technology and world class products by leveraging a combination of engineering, support, technical expertise, and hands-on methodology.
NCA develops products specifically designed for the many printing folders that Goss manufactures, providing belts that allow the folder to maintain a constant speed and retain control of the book. With consistent designed tension, high surface durability and improved resistance to edge fraying, Nitta belting is made to last.